---
A fried, breaded chicken cutlet is a wonderful thing—crunchy, golden, juicy within. Universally adored even when served simple and plain, they also take well to embellishment. This slightly fancier version is scented with cumin and citrus, and served with a sweet-tart cranberry chutney spiked with a little jalapeño. If you're pressed for time, skip the cranberry-kumquat chutney and serve this with a spoonful of mango chutney, or a dollop of lingonberry jam if you've got some in the fridge from a recent IKEA excursion (that's where I always stock up). You're just looking to add something tangy-sweet to the plate to offset the richness of the fried cutlet.
This is a great dish all year-round, but if you swap turkey cutlets in for the chicken, it's particularly apropos for a small Thanksgiving gathering.
LISTEN: Weeknight Kitchen with Melissa Clark - Grown-Up Chicken Tenders
Ingredients
For the Cranberry-Kumquat Chutney
4 ounces fresh or frozen cranberries (1 cup)

4 ounces kumquats, thinly sliced and seeded (1/2 cup)

1/3 cup sugar

1 serrano or jalapeño chile, seeded and finely chopped
For the Citrus Dressing
1 teaspoon cumin seeds

1 orange

Grated zest and juice of 1 lime

1 teaspoon ground cumin

1/2 teaspoon kosher salt, plus moreto taste

Freshly ground black pepper

3 tablespoons extra-virgin olive oil, plus more as needed
For the Chicken
1 1/2 pounds thinly sliced chicken cutlets

1/2 cup all-purpose flour

1 teaspoon kosher salt, plus more as needed

3/4 teaspoon freshly ground black pepper, plus more as needed

2 large eggs, beaten

1 1/2 cups panko bread crumbs

1 teaspoon ground cumin

Olive or grapeseed oil, for frying

Dill sprigs, for garnish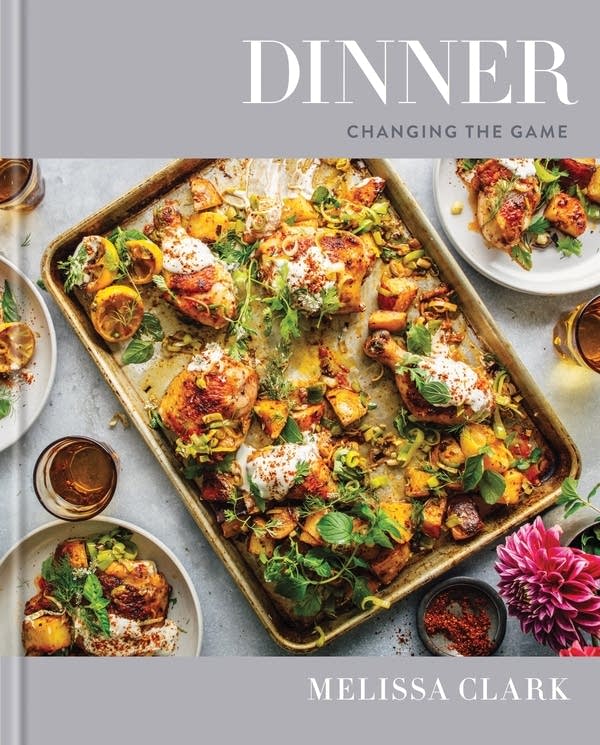 Directions
1. Prepare the chutney: In a medium pot, combine the cranberries, kumquats, sugar, and chile. Cook over medium heat, stirring frequently, until the sugar has dissolved and the cranberries have begun to pop, 7 to 10 minutes. Remove from the heat.
2. Prepare the citrus dressing: Heat a small skillet over medium heat, and toast the cumin seeds in it until fragrant, about 1 minute. Transfer them to a medium bowl. Holding a Microplane over the bowl, grate the zest of half the orange into the bowl. Then juice the orange and add the juice as well. Grate in the lime zest and squeeze in the juice. Add the ground cumin, salt, and a few grinds of black pepper. Whisk in the olive oil. Set aside.
3. Cook the chicken: Pat the chicken cutlets dry. Place the flour in a wide shallow bowl and season it with 1/4 teaspoon of the salt and 1/4 teaspoon of the pepper. Place the eggs in another wide shallow bowl and season them with 1/4 teaspoon salt and 1/4 teaspoon pepper. Place the panko in a third wide shallow bowl and season it with the ground cumin, remaining 1/2 teaspoon salt, and remaining 1/4 teaspoon pepper.
4. Season the chicken cutlets lightly with salt and pepper. Dip each cutlet first in the flour, then in the eggs, and then in the panko, turning them in each mixture to make sure they are well coated.
5. Heat about 1/4 inch of oil in your largest skillet over medium-high heat. Add the chicken cutlets (in batches, if necessary) and fry until they are deep golden brown and cooked through, 3 to 5 minutes, turning once. Transfer the cutlets to paper-towel-lined plates to drain; season them lightly with salt while they are still hot. Serve the cutlets topped with the chutney and drizzled with the citrus dressing.
---
Reprinted from Dinner: Changing the Game. Copyright © 2017 by Melissa Clark. Photographs copyright © 2017 by Eric Wolfinger. Published by Clarkson Potter/Publishers, an imprint of Penguin Random House, LLC.