---
Steak and chimichurri sauce is a classic pairing that is legendary in Argentina. But you don't have to be a gaucho or cowboy to enjoy it. Whether you cook the steak indoors or outdoors, I think this will become one of your favorite meals—I know it's one of mine! And it's quick and easy, to boot! A simple three-ingredient rub is made from spices that you most likely have in your pantry, but it delivers flavor that is anything but simple! Flank steak should be served medium-rare and cut across the grain for maximum tenderness. Pair this dish with Tex-Mex Chocolate Sheet Cake and a German Chocolate Variation.
Ingredients
1 flank steak (1 1/2 to 2 pounds and about 3/4 inch thick)

1 teaspoon granulated garlic

1/2 teaspoon smoked paprika

1/2 teaspoon whole cumin seed, toasted on the stovetop in a skillet

Extra-virgin olive oil

Coarse sea salt or kosher salt

Chimichurri Potatoes, with 1/4 cup of the sauce set aside for serving with the steak
Special equipment: 12-inch grill pan with lid (see Note)
Method: Stovetop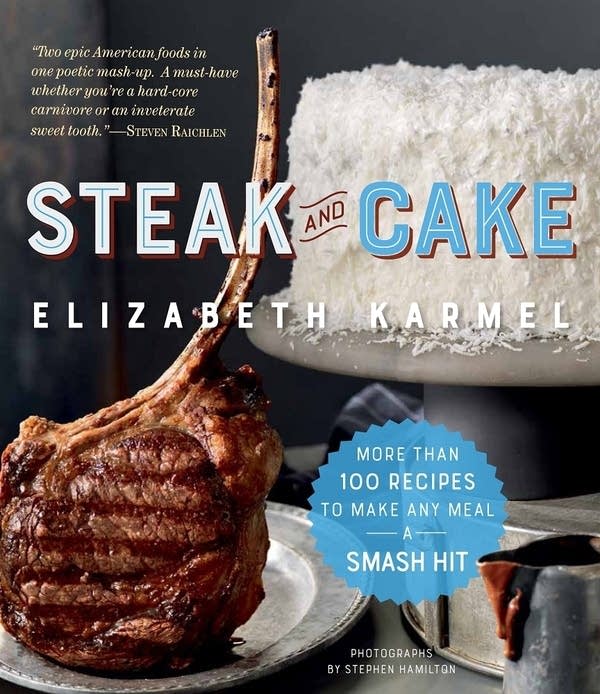 Directions
1. Wrap the flank steak in paper towels to rid it of excess moisture. Replace the paper towels as needed.
2. Mix the garlic, paprika, and cumin seed together in a small bowl until well combined.
3. Trim the steak of any surface fat. Brush it lightly all over with olive oil. Press the rub into both sides of the steak. Wrap the steak in plastic wrap and refrigerate until ready to cook. (This step can be done the night before cooking.)
4. Just before cooking, season the steak with salt.
5. Preheat the grill pan on high until hot, about 2 minutes. Reduce the heat to medium. Place the meat in the grill pan and sear for 1 minute per side with the lid off. Put the lid on the pan and cook for 4 to 6 minutes. Turn the steak with a pair of tongs and sear the second side. Continue cooking with the lid on until done, 3 to 5 minutes more.
6. Remove the steak and place it on a clean platter. Let rest for 5 to 10 minutes before slicing. Then slice the steak across the grain into thin diagonal slices and sprinkle with a pinch of salt. Serve warm with the Chimichurri Potatoes and the chimichurri sauce.
Note: I find that the steak cooks better if I use a grill pan that has a lid. I like the Staub steam-grill pan that comes with a lid or the Lodge cast-iron 12-inch pan and a 12-inch lid.
Steak and Chimichurri
When I visited Buenos Aires, I was surprised that most of the chimichurri sauce in restaurants was made from dried herbs and tasted more of oregano than parsley. And, even though that trip taught me that my recipe is Americanized and not an authentic Argentinean chimichurri, I still prefer it. The deep green sauce is most commonly served as a condiment for steak, but I toss hot roasted potatoes with the garlicky sauce for a healthy alternative to mashed potatoes that literally bursts with flavor!
Since I love a good chimichurri with steak, the meat in this recipe is still a steak, but a family-friendly, delicious, versatile, and economical flank steak. It can be sliced thin and placed on a slice of toasted or grilled baguette with a dollop of chimichurri sauce for a crowd-pleasing appetizer. One steak will stretch to feed at least 15 to 20 people—and still taste like a luxurious bite. Or it can be served up with chimichurri potatoes for a hearty main course for six. I also sometimes take leftover chimichurri sauce and toss it with hot pasta and chunks of leftover flank steak—it's a leftover that is good enough to plan for!
---
Excerpted from Steak and Cake by Elizabeth Karmel (Workman). Copyright © 2019. Photographs by Stephen Hamilton.