---
The classic fish for this intense and sweetly aromatic recipe is catfish. In Vietnam, thick bone-in catfish steaks are simmered in a dark and highly peppery caramel for upwards of an hour, until the fish practically falls apart in its bittersweet, pungent sauce. Here, I've replaced catfish with salmon, which has a rich succulence that can stand up to the ginger, chiles, and black pepper. And by using brown sugar instead of making my own caramel, I've also hastened the process so that the whole thing is ready in less than thirty minutes. The salmon still has time to absorb all the intense flavors of the caramel, but it doesn't overcook, staying firm but tender. Serve this with some kind of rice as a gentle foil for all the rich spiciness on the plate.
LISTEN: Weeknight Kitchen with Melissa Clark - A New Way With Salmon
Your donations help bring you this recipe… and the story and techniques behind it. Support Weeknight Kitchen today!
Ingredients
4 skin-on salmon fillets, preferably center-cut pieces (6 to 8 ounces each)

1 tablespoon coconut or extra-virgin olive oil

Fine sea salt to taste

1/3 cup packed light brown sugar

3 tablespoons Asian fish sauce

2 tablespoons soy sauce

1 teaspoon grated peeled fresh ginger

Finely grated zest of 1 lime

Juice of 1/2 lime

1/2 teaspoon freshly ground black pepper

Sliced scallions (white and green parts), for garnish

Thinly sliced jalapeño, for garnish

Fresh cilantro leaves, for garnish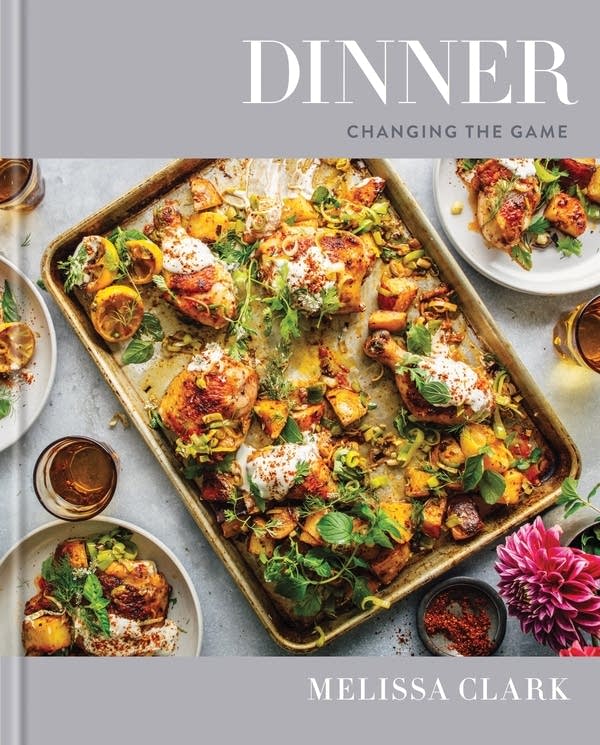 Directions
1. Set an oven rack 6 inches from the heat source (usually the second rack position, not the one closest to the heat source), and turn on the broiler.
2. Brush the salmon fillets all over with the oil and season them lightly with salt.
3. In a 12-inch oven-safe skillet set over medium-high heat, combine the brown sugar, fish sauce, soy sauce, ginger, lime zest and juice, black pepper, and 1 tablespoon of water. Bring to a simmer.
4. Place the fish, skin-side up, in the skillet. Reduce the heat to low and simmer, without moving it, until the fish is cooked through halfway, 4 to 6 minutes.
5. Spoon the pan juices over the fish and transfer the skillet to the oven. Broil until the fish is just cooked through and the skin is caramelized in spots, 2 to 5 minutes for medium rare, depending upon the thickness of the fish (thicker ones will take longer).
6. Transfer the fish to a serving plate and garnish it with scallions, jalapeños, and cilantro. Drizzle with the pan sauce, and serve.
---
Reprinted from Dinner: Changing the Game. Copyright © 2017 by Melissa Clark. Photographs copyright © 2017 by Eric Wolfinger. Published by Clarkson Potter/Publishers, an imprint of Penguin Random House, LLC.