---
This is what I make for dinner practically every single night, tossing it with my hands so I can get a feel for the moment when the leaves are nicely coated with the dressing (though use utensils if you want to avoid olive oil on your fingers). You can use any salad greens you like; I tend to go for the dark, slightly bitter ones of the arugula/spinach variety, but this recipe will work with whatever you have in your fridge.
Adding the vinegar, salt, and pepper to the greens before adding the oil gives the salt a chance to start dissolving, and therefore makes for a more evenly seasoned salad. It's a slight but noticeable difference.
When I'm lucky enough to have a ripe avocado, I'll cube that up and add it to the bowl as well. The trick with the avocado is to salt it while it's on the cutting board, before you slide the cubes into the salad. Otherwise it never seems to get seasoned properly. Add the avocado after you've tossed the salad so the cubes don't break down and get mushy.
Melissa Clark explains a good way to easy salad dressing! Listen now: Weeknight Kitchen with Melissa Kitchen - Shake Your Way to a Better Salad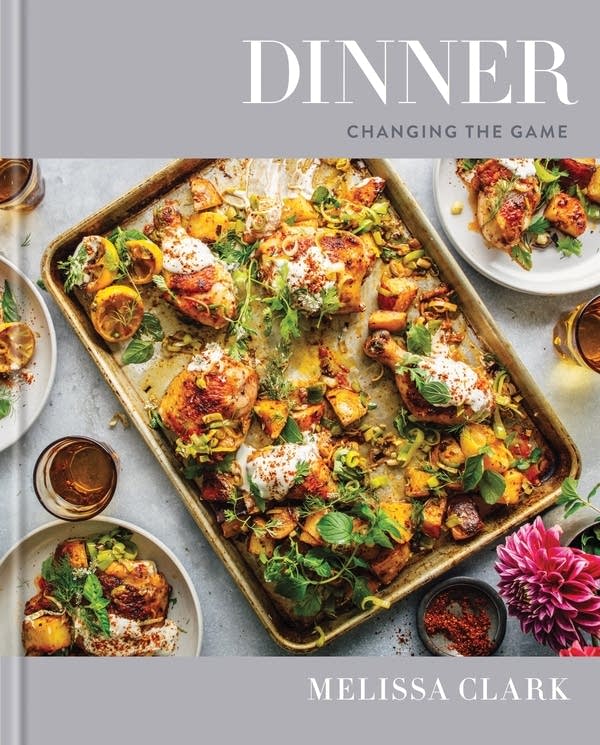 Ingredients
8 cups salad greens

1 to 2 tablespoons vinegar, fresh lemon juice, or fresh lime juice

Fine sea salt and freshly ground black pepper to taste

1 small garlic clove, grated on a Microplane or minced (optional)

1/4 cup extra-virgin olive oil, plus more as needed

1 ripe avocado, pitted, peeled, and cubed, seasoned with salt (optional)
Directions
1. Put the salad greens in a salad bowl, drizzle with the vinegar or citrus juice, and season with fine sea salt and black pepper to taste. Add the garlic if you like, and toss gently.
2. Drizzle the olive oil over the salad, and toss gently again. Top with the avocado if using, and serve.
---
Reprinted from Dinner: Changing the Game. Copyright © 2017 by Melissa Clark. Photographs copyright © 2017 by Eric Wolfinger. Published by Clarkson Potter/Publishers, an imprint of Penguin Random House, LLC.