---
Ever since I discovered the golden-edged, caramelized joys of roasted cauliflower, I've hardly prepared it any other way. Roasting condenses its juices, browns the crevices, and renders the whole thing sweet and irresistible. Whenever I serve roasted cauliflower to a group, I need to sit on my hands to avoid eating every last floret before my friends and family have had their fill.
In this recipe, the florets are roasted in the same oven as the sausages, which makes the whole dinner especially convenient to prepare since it all cooks at once. I like to serve this with a simple garlicky yogurt sauce to add a piquant creaminess to the mix. Regular (non-Greek) yogurt works best here because you want a runny texture. But if you've only got Greek yogurt in the fridge, thin it down with a bit of water or milk. A garnish of fresh herbs—parsley, dill, or mint—add color as well as their bright flavor.
LISTEN TO THIS RECIPE COME TO LIFE: Weeknight Kitchen with Melissa Clark - Dueling Sheet Pans
Ingredients
1 1/4 pounds cauliflower, cut into florets

1/4 cup extra-virgin olive oil, plus more as needed

1 teaspoon cumin seeds

1/2 teaspoon kosher salt, plus more as needed

1/4 teaspoon freshly ground black pepper, plus more as needed

1 pound Italian sausages, pricked with a fork

1/3 cup plain yogurt, preferably non-Greek, whole milk

1 small garlic clove

Turkish or Aleppo pepper, as needed

Toasted pine nuts, for serving (see note)

Fresh herbs such as parsley, dill or mint, for serving (optional)
Note: To toast pine nuts, heat the nuts in a small saucepan or skillet set over medium heat, shaking the pan occasionally to ensure even toasting. Toast the nuts until they are golden and fragrant, watching carefully to ensure they do not burn, 2 to 3 minutes.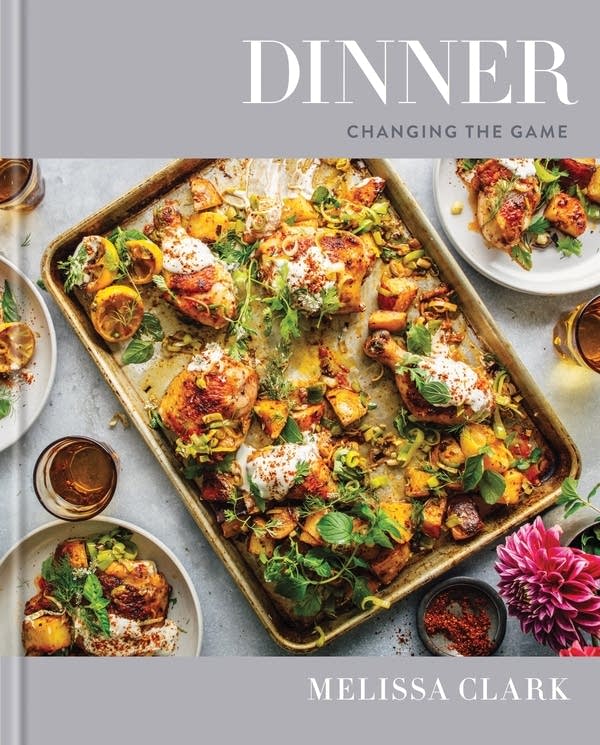 Directions
1. Heat the oven to 425°F.
2. Spread the cauliflower florets on a large rimmed baking sheet, and toss with the olive oil, cumin seeds, salt, and pepper. Roast for 10 minutes.
3. Coat the sausages lightly with olive oil, place them on another rimmed baking sheet, and add it to the oven with the cauliflower. Roast, turning them over halfway through, until the sausages are golden and cooked through and the cauliflower is tender and caramelized, about 25 minutes.
4. While the cauliflower and sausages are cooking, prepare the yogurt sauce: Place the yogurt in a small bowl, grate the garlic clove over the yogurt, add salt and pepper to taste, and stir together.
5. Place the sausages and cauliflower on a platter or individual serving plates. Spoon the yogurt sauce on top, and sprinkle with Turkish pepper, and pine nuts and fresh herbs if using.
---
Reprinted from Dinner: Changing the Game. Copyright © 2017 by Melissa Clark. Photographs copyright © 2017 by Eric Wolfinger. Published by Clarkson Potter/Publishers, an imprint of Penguin Random House, LLC.