---
When it comes to fried eggs, there are some people who prefer a pristine, pillowy white, without any trace of browning or crispness. I am not one of them. When I want a cushion of soft egg white, I poach. For me the perfect fried egg has a white that curls and ruffles as soon as it makes contact with the hot fat in the pan, turning lacy and crunchy at the edges while remaining plump and soft at the yolk, which should run like hot lava at the merest touch of your fork. This recipe achieves exactly that, using olive oil as the frying medium. But what really elevates this dish are the sweet fried scallions and woodsy fried sage leaves that get caught in the white. They turn a plain breakfast staple into an unusual and very quick dinner. Serve this with toasted country bread or flatbread, and maybe a big salad if you need some vegetables. Consider this a light dinner, for nights after you've had a big lunch, when you're peckish rather than starving.
LISTEN: Weeknight Kitchen with Melissa Clark: There Are Always Eggs
Ingredients
2 tablespoons extra-virgin olive oil

4 large fresh sage leaves

4 eggs

Fine sea salt and freshly ground black pepper

Ground Turkish or Aleppo red pepper

2 scallions (white and green parts), thinly sliced

Handful of baby arugula, for serving (optional)

Lemon wedge, for serving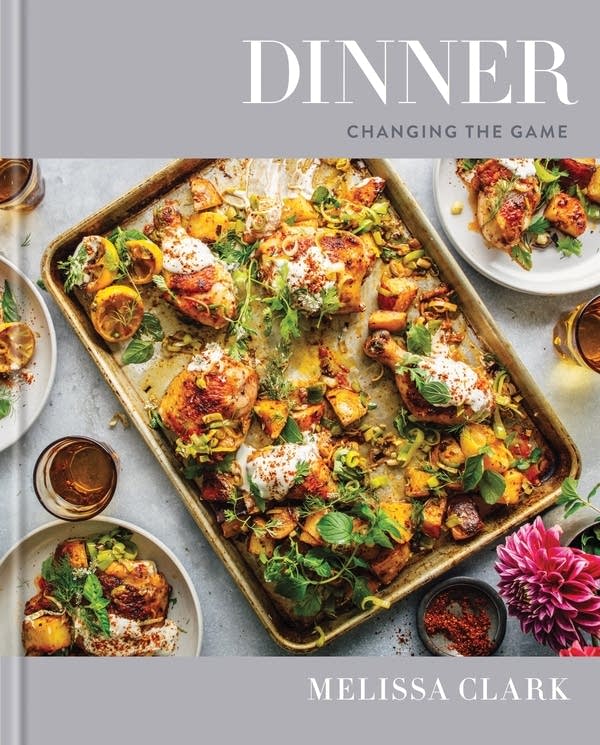 Directions
1. Heat a heavy (preferably cast-iron) 10- to 12-inch skillet over medium-high heat for about a minute; then pour in the oil. The oil should thin out on contact (but not smoke—that's too hot). Add the sage leaves and let them sizzle for about 10 seconds. Then crack the eggs into the skillet on top of the sage leaves and season them with salt and pepper to taste. As the eggs fry, baste the egg whites with some of the oil from the bottom of the skillet to encourage cooking (you can add a little more oil if you need to).
2. When the edges of the eggs are curled, crisped, and browned, and the yolks are still wobbly, remove the skillet from the heat and sprinkle the Turkish pepper and the scallions over them. Carefully slide 2 eggs onto each plate, and top with the arugula, if using, and a few drops of lemon juice. Serve.
---
Reprinted from Dinner: Changing the Game. Copyright © 2017 by Melissa Clark. Photographs copyright © 2017 by Eric Wolfinger. Published by Clarkson Potter/Publishers, an imprint of Penguin Random House, LLC.