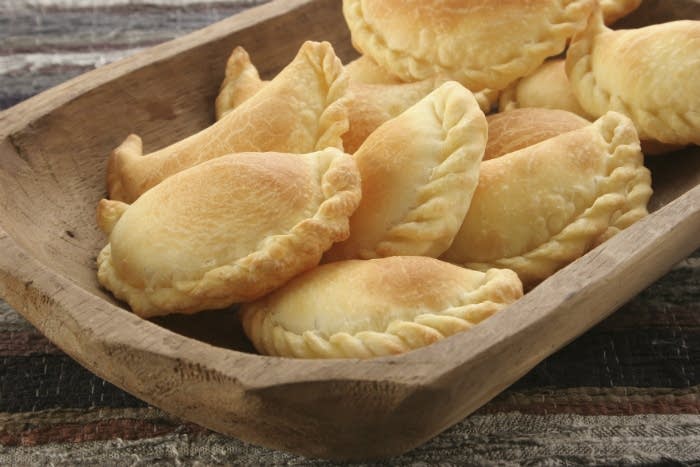 Photo: gabrieldome / iStock / Thinkstock
---
This recipe is part of a Cuban-Style Christmas: Mojito, Garlic Plantain Chips, Lime, Garlic, and Oregano Mojo, Avocado Salad, Gloria's Black Bean Soup, Crab Empanadas with Pickled Garlic-Caper Remoulade and Roasted Pork Marinade.
2 tablespoons sliced Pickled Garlic

2 tablespoons capers, drained

1 teaspoon Dijon mustard

1/2 tablespoon flat-leaf parsley

3/4  cup mayonnaise

1 tablespoon coarsely ground pepper
Crab Filling:
1 tablespoon extra virgin olive oil

3/4 cup finely diced white onion

1 teaspoon minced garlic

8 ounces lump crabmeat, pickled through

2/3 cup seeded and finely diced plum tomatoes

2 tablespoons freshly grated Parmesan cheese

3 scallions, finely sliced

Salt and pepper to taste
Empanada Dough:
Pickled Garlic (recipe follows):
3 cups white wine vinegar

3 tablespoons sugar

3 tablespoons salt

8 heads garlic, broken up and peeled

3 sprigs thyme

8 peppercorns

2 bay leaves

1 tablespoon mustard seeds
1. Place all of the roumoulade ingredients in a blender and food processor and puree until smooth. Refrigerate until ready to serve.
2. To prepare the crab filling, heat the olive oil in a saute pan or skillet and saute the garlic and onion over medium heat for about 5 minutes. Remove the pan from the heat and let cool slightly.
3. Transfer the onion and garlic to a large mixing bowl. Add the crabmeat, tomatoes, Parmesan, and scallions, and mix well. Season with salt and pepper and refrigerate.
4. To prepare the dough, place 2 cups of the flour in a mixing bowl. Add the vegetable oil and water slowly, mixing on a low speed with an electric mixer fitted with a dough hook. Add the remaining cup of flour and the salt, and mix until thoroughly incorporated and the dough is elastic.
5. Turn out the dough to a well-floured work surface and roll out to a thickness of about 1/8 of an inch. Using a 3-inch round pastry cutter, cut out 15 to 20 circles.
6. Place about 1 tablespoon of the crab filling in the center of each dough round, fold over to form a half-moon or turnover, and seal the edges with a fork.
7. In a large cast-iron pan, heat 1 inch of the oil to 300 degrees. Fry the empanadas until golden brown, 3 to 4 minutes. Serve with remoulade on the side.
Pickled Garlic
Yield: Approximately 1 quart
1. In a saucepan, bring the vinegar, sugar, and salt to a boil and stir until the sugar and salt dissolve.
2. Place the garlic cloves in a glass storage jar and add the thyme, peppercorns, bay leaves, and mustard seeds. Pour the vinegar into the jar and let cool. Cover and store until needed.