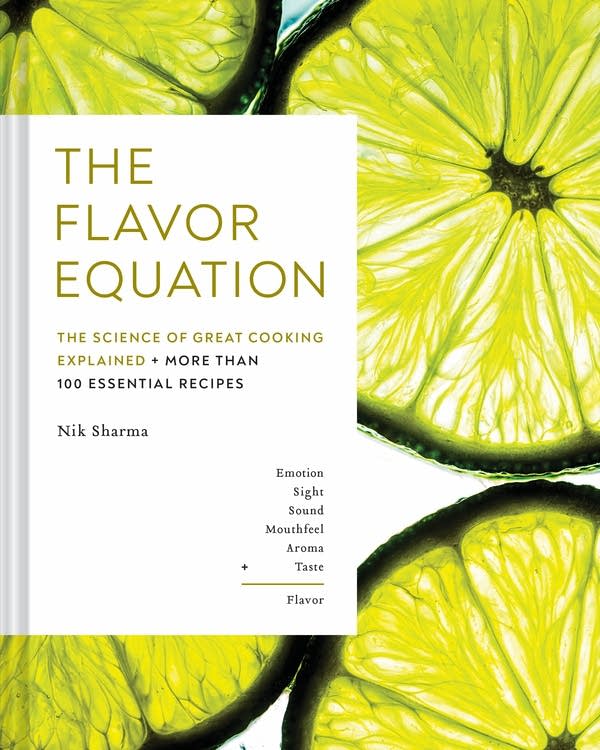 Samosas are individual hand pie–size creations that encase tasty fillings in an equally tasty crust. The choices for fillings are endless, including the popular spiced potatoes, spiced chickpeas, paneer, and ground lamb. I make this larger version that I've nicknamed the "samosa pie" whenever I want the flavor and texture of a samosa for dinner but I'm low on time. I've replaced the samosa pastry with store-bought phyllo sheets; they give the crust a delicate, paper-thin texture that crumbles with a crunch in every bite.
THE FLAVOR APPROACH
A mixture of butter and olive oil moisturizes the phyllo sheets and helps turn them crisp as they cook in the oven.
Black pepper and chilli with ginger and the spices in the garam masala add heat and flavor as well as aroma.
Nigella and cumin seeds add flavor and crunchiness to the pastry.
SERVES 12 / MAKES ONE 9 IN [23 CM] SQUARE CAKE AND2 CUPS [480 ML] SAUCE
For the filling:
Fine sea salt

2 medium russet potatoes (total weight 151/2 oz [440 g]), peeled and diced

2 Tbsp extra-virgin olive oil

1 medium white or yellow onion (91/4 oz [260 g]), diced

1 in [2.5 cm] piece fresh ginger, cut into matchsticks

1 tsp garam masala, homemade (RECIPE FOLLOWS) or store-bought

1 tsp ground black pepper

½ tsp ground turmeric

½ tsp red chilli powder

5 oz [140 g] fresh baby spinach leaves, chopped

Two 15 1/2 oz [445 g] cans chickpeas, rinsed and drained

1 tsp amchur

2 Tbsp chopped cilantro

1 fresh chilli, minced
For the phyllo crust:
1/4 cup [55 g] unsalted butter, melted

¼ cup [60 ml] extra-virgin olive oil

10 sheets phyllo, thawed

1 tsp cumin seeds

1 tsp nigella seeds 
Set a rack on the lower one-third level of the oven and preheat to 350°F [177°C].
Set a large pot of salted water to boil over medium-high heat. Add the diced potatoes and cook until they are just tender but retain their structure, 4 to 5 minutes. Drain the potatoes.
Heat the olive oil in a medium saucepan over medium-high heat. Add the onions and sauté until they turn pale and translucent, 4 to 5 minutes. Lower the heat to medium-low and add the ginger, garam masala, black pepper, turmeric, and chilli powder. Sauté until the spices are fragrant, 30 to 45 seconds. Add the potatoes and cook for 2 minutes, until they are completely tender in the center. Add the spinach and cook until the leaves have wilted and released most of their liquid, 2 to 3 minutes. Fold in the chickpeas and amchur, season with salt, and cook for about 1 minute. Remove from the heat. Add the cilantro and chilli. Taste and season with salt if needed.
To prepare the phyllo crust, combine the butter and olive oil in a small bowl. Brush a 9 by 12 by 2 in [23 by 30.5 by 5 cm] rectangular baking pan with the butter–olive oil mixture. Line the base of the pan with 5 sheets of phyllo, brushing each sheet with a little bit of the butter–olive oil mixture. Make sure any overhanging phyllo sheets are also brushed with the mixture. Add the chickpea mixture and level it with a large spoon or spatula.
Add the remaining phyllo sheets on top, brushing each with the butter–olive oil mixture. As you place each one, pleat slightly to create a ruffled surface. Sprinkle the cumin and nigella seeds on top. Fold in any overhanging phyllo and neatly tuck them in around the sides. Bake the pie in the preheated oven until the crust is golden brown on top and on the sides, 30 to 45 minutes, rotating halfway through baking. Let cool in the pan for 5 minutes before serving. 
The pie is best eaten the day it is prepared.
My Garam Masala
This is my regular garam masala; note the absence of a few aromatic spices such as fennel and a smaller amount of green cardamom in this version.
MAKES ABOUT ¼ CUP [25 G]
2 Tbsp cumin seeds

2 Tbsp coriander seeds

1 Tbsp black peppercorns

2 dried bay leaves

One 2 in [5 cm] cinnamon stick

12 whole cloves

1 whole black cardamom pod

3 or 4 green cardamom pods

1 tsp freshly grated nutmeg
Heat a small, dry stainless-steel or cast-iron skillet over medium-high heat. Turn the heat to medium-low and add the cumin seeds, coriander seeds, fennel seeds, black peppercorns, bay leaves, cinnamon, cloves, green and black cardamom pods, and star anise. Toast gently by rotating the pan to circulate the spices until the spices become fragrant, 30 to 45 seconds. Be careful not to burn them; if they do burn, discard them and start fresh. Transfer the toasted spices to a small plate and let cool completely. Transfer the cooled spices to a mortar or spice grinder. Add the nutmeg and grind to a fine powder. Store the spice mix in an airtight container in a cool, dark place for up to 6 months.
Reprinted from The Flavor Equation by Nik Sharma with permission by Chronicle Books, 2020