There's nothing better than the smell of roasted fall vegetables coming from the kitchen during the holidays. It warms the home, it warms the senses, and soon these dishes will warm your plate. In our unending quest for new side dish recipes, we asked our dear friend Diana Henry to suggest a few recipes that would work especially well for Thanksgiving feasts, falltime meals or holiday parties. She pointed us to these three recipes from her latest book, From the Oven to the Table.
Let's be honest, what's not to love about the smell of oven-roasted potatoes? Here, Diana provides more than a half-dozen variations on the potato theme to fit any flavor-themed meal -- from classic American to one of many international cuisines -- including Thyme Roast Potatoes with Onions, Black Olives & Goat Cheese; Roast Potatoes with Bacon, Scallions Paprika & Caraway; and Indian-spiced Roast Potatoes & Cauliflower. SEE RECIPE.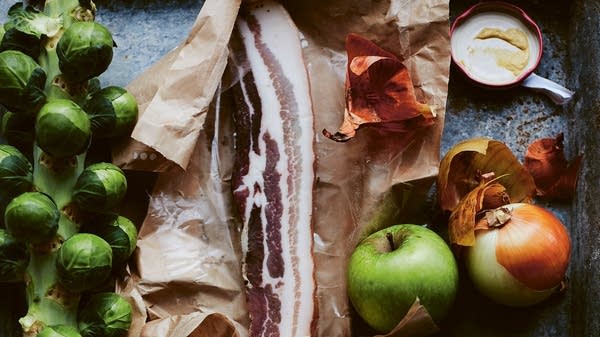 Roasted Brussels Sprouts with Apple & Bacon
This recipe begins with the sprouts roasting in the oven, and then getting an added boost of flavor when cooked on the stove with bacon lardons, apple and onion. Adding two kinds of vinegar, wine and mustard helps to create a delicious savory-tart and slightly sweet side dish. SEE RECIPE.
Roasted Autumn Vegetables with Walnut-Miso Sauce
Through the addition of a garlicky walnut-miso sauce, this umami-packed dish brings layers of flavor and different textures that will not be lost in the sea of side dishes at your holiday table. SEE RECIPE.
---