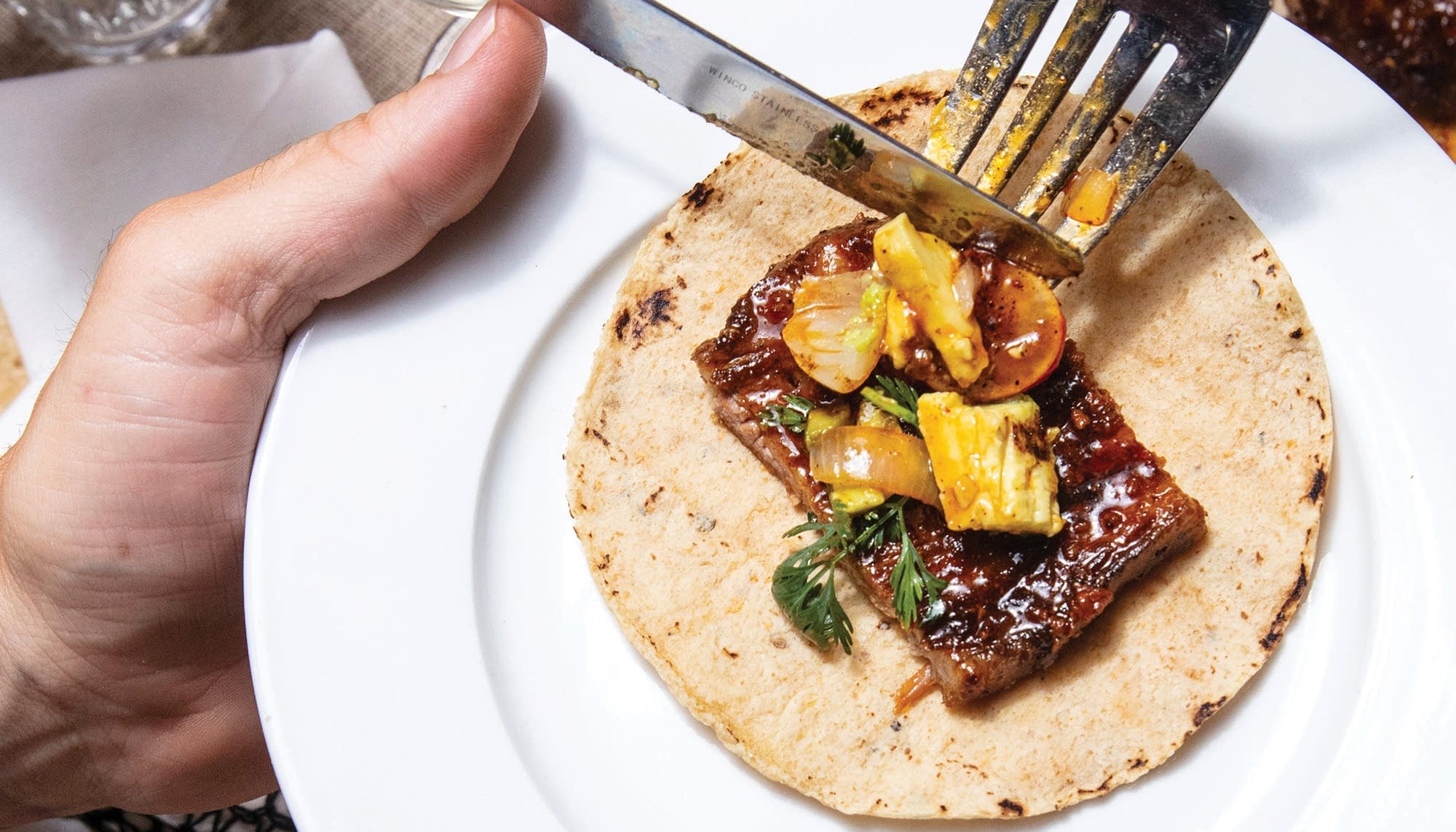 Photo: Aaron Adler and Brent Herrig
---
The almighty brisket is Mexico's humble suadero. This is a dish that we see in street stalls all over Mexico City. It's usually in a cauldron of boiling fat, often alongside some chorizo, onions, and lots of mystery meat. When I'm in El Centro craving tacos, I try to stop by Los Cocuyos. There are eyes, snouts, and sweetbreads in that cauldron, but tempting as those are, I can't resist their suadero.As much as I love a simple suadero taco, I wanted to find a way to elevate the dish a little bit, while capturing the same satisfying flavors and textures of a well-cooked slab of brisket. The chiles in this braising liquid enhance the meat's natural depth, while the radish salsa provides refreshing acid and crunch. This is a fun, easy centerpiece for a taco party.
Ingredients
5 pounds beef brisket

15 cloves garlic

1 cup milk

Vegetable oil, for the pot

Kosher salt

2 carrots, chopped

2 medium white onions, quartered

3 stalks celery, chopped

5 dried chiles (preferably guajillo chiles), stemmed and seeded

2 bay leaves

2 fresh thyme sprigs

1 fresh marjoram sprig

4 cups beef stock
RADISH SALSA
5 radishes, diced

1 red onion, diced

1/2 bunch fresh cilantro, chopped

1 jalapeño pepper, seeded and minced

Juice of 1 lime (about 2 tablespoons)
Directions
Place the brisket in a dish large enough to fit it but small enough to fit in the refrigerator. Put 10 of the garlic cloves and the milk in a blender and blend until smooth. Pour the milk over the brisket, cover, and let sit overnight in the refrigerator.
Preheat the oven to 250ºF. Heat a Dutch oven (or other heavy ovenproof pot) over high heat and coat with vegetable oil. Season the brisket liberally with salt and sear until deep brown on all sides, about 4 minutes per side. Add the carrots, remaining 5 garlic cloves, the onions, and celery and brown for 2 minutes more. Add the dried chiles, bay leaves, thyme, and marjoram and cook another 2 minutes.
Deglaze the pan with 1/4 cup of the beef stock, scraping the bottom of the pan to release any sticky brown bits. Add the remaining 3 3/4 cups stock, to almost cover the brisket. Cover the pot and braise for 4 to 5 hours, until fork tender.
Remove from the oven and let cool in the pot for about 30 minutes. Remove the brisket to a platter and strain the braising liquid, discarding the vegetables and aromatics. Pour the liquid into a bowl and skim off the fat. Return to small pot and reduce to about half.
Just before serving, prepare the radish salsa by tossing together the radishes, onion, cilantro, chile, and lime juice.
To serve, thinly slice the brisket against the grain and pile it on a platter. Drizzle with just enough of the braising liquid to moisten well. Serve with warm tortillas and radish salsa for guests to assemble their own tacos.
---
---
When you shop using our links, we earn a small commission. It's a great way to support public media at no extra cost to you!