---
On our travels in Bali, Jeremy and I stayed at a little resort that offered great cooking classes. In addition to local curries and rice dishes, the chef taught us this citrusy, simple salad, which has since become a staple at home. The combination of poached shrimp, tart grapefruit, spicy chilies, and fresh mint is bright and clean. Crunchy bean sprouts add terrific texture.
LISTEN: Gail Simmons and Melissa Clark prepare this dish in Weeknight Kitchen with Melissa Clark podcast.
Your donations help bring you this recipe… and the story and techniques behind it. Support Weeknight Kitchen today!
Ingredients
1 lemongrass stalk, tough outer leaves removed

Ice water

2 (1/8-inch-thick) coins unpeeled fresh ginger

Kosher salt

1 pound large shrimp, peeled and deveined

1 large pink grapefruit

1 1/2 cups mung bean sprouts (see Kitchen Wisdom)

1 avocado, pitted and cubed

1/4 cup torn fresh basil, plus more for serving

1/4 cup coarsely chopped cilantro leaves, plus more for serving

Ginger-Chili Dressing (see recipe)

1/4 cup dry roasted salted peanuts, roughly chopped

1 small Thai chili, seeded and thinly sliced; or 1/2 small jalapeño, seeded and finely chopped

Lime wedges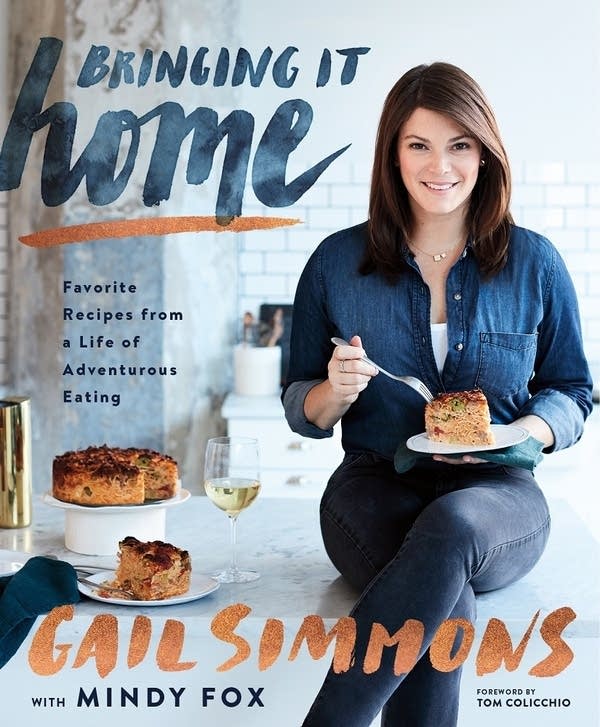 Directions
Finely chop 1 teaspoon lemongrass from the thick end of the stalk and set aside for the dressing. Bruise the remaining stalk with the back of the chef's knife.
Fill a large bowl with ice water. Place the lemongrass stalk in a large saucepan and add the ginger coins, 1 teaspoon salt, and 5 cups water. Bring to a boil, then reduce to a simmer. Add the shrimp and cook until opaque and bright pink, 2 to 3 minutes. Using a slotted spoon, transfer the shrimp to the ice water. Let stand 1 to 2 minutes, then drain and pat dry. Discard the aromatics.
Using a sharp knife, cut away the skin and bitter white pith from the grapefruit. Cut in between the membranes to release the grapefruit sections into a large bowl. Cut the grapefruit segments into bite-sized pieces and place in a larger mixing bowl. Squeeze and pour excess juice from the membrane into a separate bowl and reserve 2 tablespoons on the juice for the dressing (drink the rest!).
Add the shrimp, sprouts, avocado, basil, cilantro, 3 tablespoons of the dressing, and a generous pinch of salt to the grapefruit segment; gently toss to combine. Divide the salad among serving plates, then drizzle with the remaining dressing. Sprinkle with the peanuts, chili, and additional basil and cilantro and serve with lime wedges.
Kitchen Wisdom: Mung Bean Sprouts
Mung bean sprouts are crisp and slightly sweet. Look for them in the produce section of good supermarkets or in Asian markets. When the sprouts are not available, I use sunflower sprouts and thinly slice endive as a substitute.
Ginger-Chili Dressing
Makes 1/3 cup
Ingredients
2 tablespoons fresh grapefruit juice (from the grapefruit prep in salad recipe)

1 tablespoon fresh lime juice

2 teaspoons light brown sugar

1 small Thai chili, seeded and thinly sliced; or 1/2 small jalapeño, seeded and finely chopped

1 teaspoon finely grated peeled fresh ginger

1 teaspoon finely chopped lemongrass (from the lemongrass prep in salad recipe)

1 teaspoon fish sauce (such as nuoc nam or nam pla)

1/4 teaspoon kosher salt

2 tablespoons extra-virgin olive oil
Directions
In a medium bowl, whisk together the grapefruit juice, lime juice, sugar, chili, ginger, lemongrass, fish sauce, and salt. Whisk in the oil.
The dressing will keep, refrigerated and in a small, airtight container, for up to 1 week.
---
Excerpted from Bringing It Home by Gail Simmons. Copyright 2017 Grand Central Publishing. Photography by Johnny Miller.