Prepare yourself for tater tot overload! During the research and recipe testing for his upcoming book, Tots!, Dan Whalen obsessed over tater tots. Whalen, a cookbook author and the blogger behind The Food in My Beard, came up with dozens of fun, innovative ways to use tots in appetizers, entrées, and even desserts. He admits that when it comes to innovative cuisine, tots are not likely the first ingredient that comes to mind. "The way I've always cooked is a juxtaposition of a 'trashy food' with something sort of classy," Whalen said. "I enjoy taking something that you grew up with or never considered to be fancy, and then adding a few elements that make it more modern. Tater tots definitely fit that bill. You can elevate them as long as you treat them with the respect that they deserve."
In Tots! Whalen gives the tot treatment not only to a long list of American dishes, but also to many international flavors including Indian, Mexican and Jewish. Below you'll find three tot-tastic recipes that Whalen shared with us along with notes for each. His Tot-Stuffed Pork Meatballs with Spicy Romesco Sauce, Cheeseburger Tot Sliders, and Chicken Tot Pie will make great additions to your next house party or game day menu. They're also kid- and family-friendly.
Fun fact: February 2 is National Tater Tot Day! Celebrate the occasion with these recipes or by inventing your own.
---
Tot-Stuffed Pork Meatballs with Spicy Romesco Sauce
Dan Whalen: "My first book was called Stuffed, and every recipe included something stuffed into something else. When I was researching tot ideas, I kept thinking about stuffing a tot into something, especially because when tots are frozen, they're so resilient. You can stick the meat all around the tot because it's frozen, and the tot is going to retain its shape. With the different flavors in the tot book it would be easy to go with chives and sour cream or plain ketchup for every recipe, but I wanted to branch out and bring tots into different cuisines, ethnicities, and flavor combinations. I thought the zesty flavors of Romesco sauce would work well with tater tots. In the book, there are also recipes where I use the tots as the outer layer of stuffing. But here, it's the inverse; the meat is on the outside, similar to a Scotch egg, but it has the potato on the inside instead of an egg."
---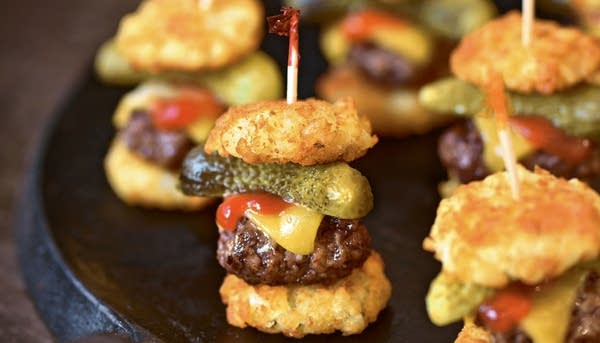 Tiny cheeseburger sliders with tots for buns? Sign us up! Whalen says there are several important elements to pulling off this fun party food. The first is to use coin-shaped round tots to act as the "buns" of the slider. He says you can also lightly smash a regular tot into a flat shape while frying in a pan, but using coin-shaped tots – aka crispy crowns – makes it easy. Second, the sweet gherkin adds not only a sweet crunch to the bite-sized treat, but visually brings the tiny burger together with a bit of class. The final key to the recipe is using small wooden skewers to hold everything together and keep it upright. Since everything is so small, and if it's not perfectly flat, the skewers help the slider stand up on its own.
---
Dan Whalen: "I think if you're writing a book about tater tots, or comfort food in general, you need to include a pot pie. Most people are familiar with tater tot hotdish. There, the idea is placing whole tots on top. But when you crunch or mash up the tots, it turns them into a more cohesive crust. What's interesting about tots is that they can be very flexible. Obviously when they're frozen, they're rock solid. They're also very sturdy when they're cooked. But in the in-between time they fall apart so easily. A crust made of broken down tots will seal the flavors on the inside of the casserole and get nice and crispy on the outside. The key is making sure the crust is something that you can break into with a spoon. I love serving this kind of thing in an individual dish, because the act of breaking into your own little personal pot pie – kind of like breaking into a crème brûlée – is the best part of eating anything like that."