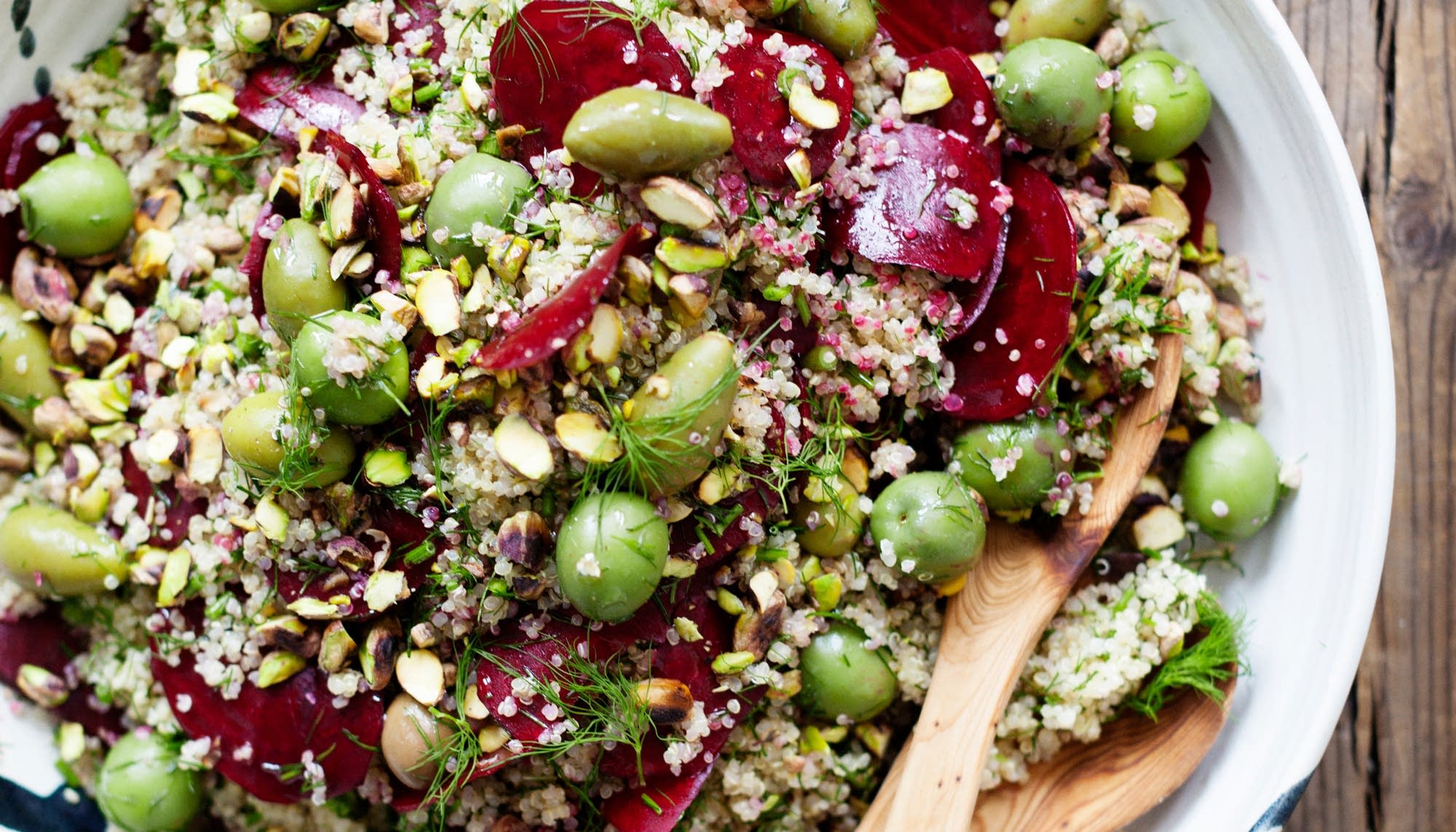 Photo: Photo: Sarah Britton
---
Raw beets are one of my favorite foods. They are crisp yet tender, earthy and sweet. If you are one of the many people who have only tried cooked beets, be prepared to fall in love. The secret to the tastiest raw beets is to cut them very thinly. A mandoline slicer is the best tool to create paper-thin slivers, but if you are confident with your knife skills, you can go the old-fashioned route. This salad is vegan, but if you are serving people who don't mind dairy, feta cheese is really lovely folded in.
Ingredients
1 cup / 190 grams quinoa, soaked if possible

1 3/4 cups / 415 ml water

3/4 teaspoon fine sea salt

1 medium beet

1 tablespoon freshly squeezed lemon juice

Lemon Garlic Dressing (see recipe below)

Zest of 1 lemon

1/3 cup / 50 grams raw, unsalted pistachios

1 shallot, sliced

1 packed cup / 55 grams chopped fresh dill

1 cup / 130 grams mixed green olives, with pits
Directions
1. Rinse the quinoa well. In a small saucepan, combine the quinoa, water, and salt. Bring to a boil, reduce the heat to low, and cook, covered, until all the water has been absorbed and the grains are tender, about 20 minutes. Fluff with a fork.
2. While the quinoa is cooking, peel the beets and thinly slice them with a mandoline. In a medium bowl, toss the beet slices with the freshly squeezed lemon juice. Set aside.
3. Pour half of the dressing and sprinkle the lemon zest over the cooked quinoa while it is still warm; toss to coat.
4. Preheat a small dry skillet over medium heat. When hot, toast the pistachios, stirring often, until fragrant, about 5 minutes. Immediately remove the pan from the heat, let the nuts cool, and then roughly chop them.
5. Transfer the quinoa to a large bowl or serving platter. Add the sliced shallot and dill to the quinoa; fold to combine. Tuck the beet slices into the quinoa (if you toss them in, the quinoa will turn pink!), then add the olives and chopped pistachios. Drizzle the remaining dressing over the salad and season with salt.
LEMON GARLIC DRESSING
Ingredients
1 small garlic clove, finely minced

2 tablespoons cold-pressed olive oil

Zest of 1 lemon

2 tablespoons freshly squeezed lemon juice

Pinch of fine sea salt

1/4 to 1/2 teaspoon pure maple syrup or raw honey
Directions
In a small bowl, whisk together the garlic, olive oil, lemon zest and juice, salt, and maple syrup.
* * *
Reprinted from Naturally Nourished: Healthy, Delicious Meals Made with Everyday Ingredients. Copyright © 2017 by Sarah Britton. Photographs copyright © 2017 by Sarah Britton. Published by Clarkson Potter, an imprint of Penguin Random House, LLC.
---