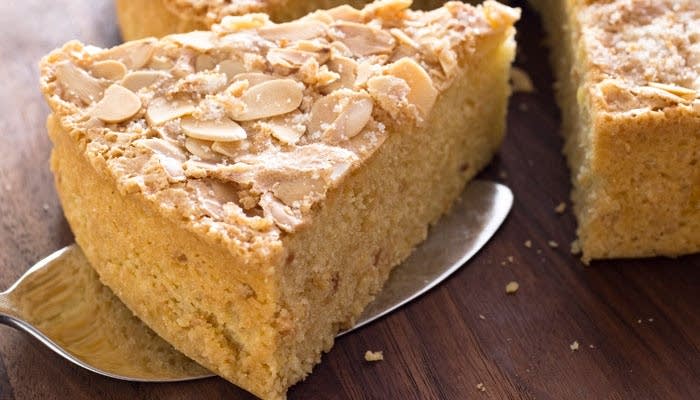 Photo: Photo: Carl Tremblay / Food Styling: Marie Piraino
---
If you can't find blanched sliced almonds, grind slivered almonds for the batter and use unblanched sliced almonds for the topping. Serve plain or with whipped cream.
Ingredients
1 1/2 cups plus 1/3 cup blanched sliced almonds, toasted

3/4 cup (3 3/4 ounces) all-purpose flour

3/4 teaspoon salt

1/4 teaspoon baking powder

1/8 teaspoon baking soda

4 large eggs

1 1/4 cups (8 3/4 ounces) plus 2 tablespoons sugar

1 tablespoon plus 1/2 teaspoon grated lemon zest (2 lemons)

3/4 teaspoon almond extract

5 tablespoons unsalted butter, melted

1/3 cup vegetable oil
Directions
1. Adjust oven rack to middle position and heat oven to 300 degrees. Grease 9-inch round cake pan and line with parchment paper. Pulse 1½ cups almonds, flour, salt, baking powder, and baking soda in food processor until almonds are finely ground, 5 to 10 pulses. Transfer almond mixture to bowl.
2. Process eggs, 1 1/4 cups sugar, 1 tablespoon lemon zest, and almond extract in now-empty processor until very pale yellow, about 2 minutes. With processor running, add melted butter and oil in steady stream, until incorporated. Add almond mixture and pulse to combine, 4 to 5 pulses. Transfer batter to prepared pan.
3. Using your fingers, combine remaining 2 tablespoons sugar and remaining 1/2 teaspoon lemon zest in small bowl until fragrant, 5 to 10 seconds. Sprinkle top of cake evenly with remaining 1/3 cup almonds followed by sugar-zest mixture.
4. Bake until center of cake is set and bounces back when gently pressed and toothpick inserted in center comes out clean, 55 to 65 minutes, rotating pan after 40 minutes. Let cake cool in pan on wire rack for 15 minutes. Run paring knife around sides of pan. Invert cake onto greased wire rack, discard parchment, and reinvert cake onto second wire rack. Let cake cool, about 2 hours. Cut into wedges and serve. (Store cake in plastic wrap at room temperature for up to 3 days.)
---