Photo: donstock / iStock / Thinkstock
(In which we learn how to make the Fondue King's "007" fondue)
Fondues are a bit like Bloody Marys in that everyone has their own way of making one, but the basics are always the same: melt cheese with wine, kirsch and garlic in a pot; eat it with dip bread cubes skewered on long, slender forks. Some add nutmeg and pepper. Others add cream. For such a simple dish, fondue can be surprisingly complex.
Few people know the dish as well as a fourth-generation cheesemaker named Fred Fischer who came up with 50 variations on fondues while running a cheese shop in a small Swiss village near the capital, Bern. So tasty and popular were his blends that he eventually became known, at least locally, as the Fondue King. For one of his more popular fondues, the "007," Fischer uses Champagne and a vodka martini (shaken not stirred!) instead of the traditional white wine and kirsch to create a playful (and delicious) version of the dish. His original blend of "007" cheeses is something of a secret, but this recipe delights all the same with a variation on the classic "moitié-moitié" blend. Meaning "half-half" in French, a moitié-moitié (mwah-tee-ay mwah-tee-ay) uses equal portions of Le Gruyère and Vacherin Fribourgeois. Nearly all Swiss fondues will use these two cheeses as a base, while other cheeses like raclette, Appenzeller or Emmentaler can be added at discretion for a more complex profile.
A note about cheeses: As any fondue fanatic will tell you, Le Gruyère from Switzerland and American Gruyere, often from Wisconsin, have vastly different flavors and are not interchangeable. Be sure to use "real" Le Gruyère, which will always have a wrapper featuring a tiny red and black "AOP" symbol (Appellation d'Origine Protégée)—no exceptions. You can often find this cheese at Trader Joe's. Vacherin Fribourgeois is trickier to find, but speciality cheese shops can often get it. It is not the same as Vacherin Mont d'Or. In a pinch you can use raclette or fontina in its place for a softer flavor. As a last resort use Emmentaler, which has a very mild profile. Never use the pre-mixed, ready-to-cook fondue packets you find in grocery stories unless you're having a fondue emergency.
The cheese labels to look for:
No matter what kind you use, it's critical to get the ratio of cheeses to liquids and cornstarch right. Be like the Swiss and be precise until you get a feel for how you can play with the ingredients. You'll need a digital scale and a glass measuring cup -- both should have metric settings and markings. (This is a European dish after all!). The template for a perfect fondue uses this unalterable formula:
[To guarantee a great fondue, the author of this recipe strongly recommends using the metric measurements, which can be found on the side of Pyrex measuring cups.]
200g (about 7 ounces) of cheese with rind removed, total, per person

75 milliliters (1/3 cup) of dry white wine per person

1 teaspoon of cornstarch per person

1 shot of kirsch per pot, not per person 

Good, crusty bread
[Recipe: 007 Fondue]
Be prepared for your house to smell like a diseased foot locker while your taste buds will rejoice. As a dinner guest's son once said, "How can something that smells so terrible taste so good?" Bon appetit!
An aging wedge of Vacherin Fribourgeois before I removed the rind on a scale set to metric: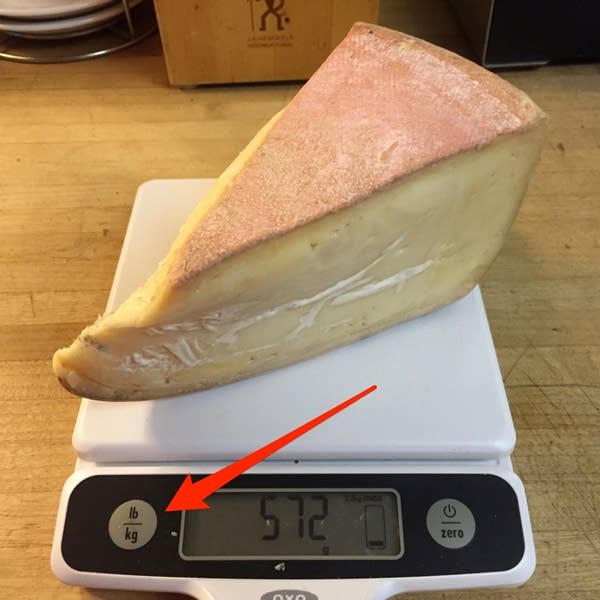 And a classic cheese caquelon with a rechaud: