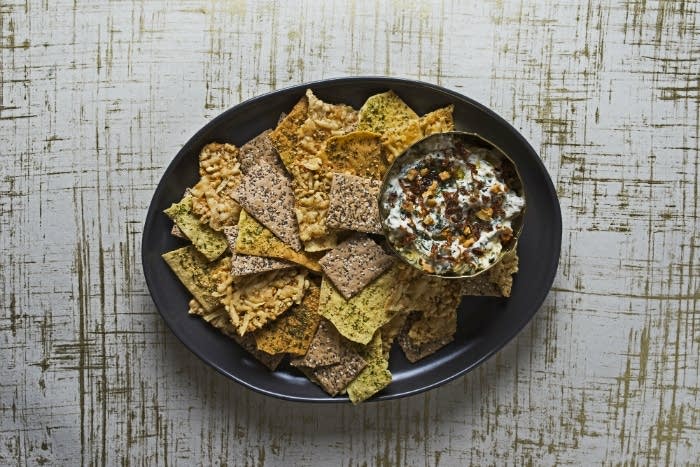 Photo: Dave Katz / Tasting Table
---
I'll fully admit that party food is my favorite of all the food groups, and a good dip is the lynchpin of the spread. Imagine my delight when our food editor Andy Baraghani not only made one of my favorites (the classic onion), but gave it a raised pinky by ditching the soup packet for caramelized onions and shallots, with toasted, crushed nuts to mimic that familiar texture. Greek yogurt, rather than mayo and sour cream, makes it vaguely more virtuous -- which I really just take as an excuse to dive deeper into the dip bowl. -Kat Kinsman
An update on the onion dip you know and love.
Ingredients
1/4 cup plus 2 tablespoons canola oil

1 1/2 cups finely diced onions

4 cloves garlic, minced

4 cups packed baby spinach

1/2 cup thinly sliced shallots (1 large shallot)

Salt and pepper, to taste

2 cups whole-fat Greek yogurt

1 cup (4 ounces) crumbled feta

3 tablespoons finely chopped fresh oregano, divided

1 teaspoon fresh lemon juice

1/3 cup walnuts, toasted and crushed

Extra-virgin olive oil, for drizzling

Crackers, for serving
Directions
1. In a large skillet over medium heat, warm 1/4 cup of the canola oil. When the oil is hot, add the onions. Season them with salt and pepper and cook, stirring constantly, until the onions are light golden brown and very soft, 20 to 25 minutes. Add the garlic and spinach and cook until the spinach has wilted and all of the liquid has evaporated, 8 to 10 minutes.
2. Meanwhile, in a small nonstick skillet over medium-low heat, add the remaining 2 tablespoons of canola oil. Add the shallots and cook until they are golden brown and crisp, 10 to 12 minutes. Remove using a slotted spoon and transfer to a paper towel-lined plate. Season with salt and set aside.
3. In a food processor, combine the yogurt and feta and pulse until smooth. Transfer to a medium bowl. Stir in the onion mixture, 2 tablespoons of the oregano and the lemon juice. Season with salt and pepper. If the dip looks too thick, stir in a tablespoon of water (as needed).
4. To serve, put the dip in a bowl and top it with the remaining oregano, walnuts and the reserved crispy shallots. Drizzle with olive oil and serve with crackers.
---