---
Quinoa is a fun, flavorful, and gluten-free alternative to traditional brown rice in sushi rolls. It can be a little hard to work with because it's less sticky than regular sushi rice, but a little practice will give you the hang of it. Part of what makes the quinoa in this recipe so tasty is the addition of mirin, a sweet rice wine that is often used in Japanese cooking. Mirin is very pricey, so, if you don't wish to use it, adding a little sweetener here will do the trick.
3 cups cooked quinoa

2 tablespoons brown rice vinegar

1 teaspoon sesame oil

1 1/2 tablespoons tamari, nama shoyu, Bragg's Liquid Aminos, or coconut aminos

1 tablespoon mirin (optional; if you don't have mirin, add 1 teaspoon sweetener of choice, such as agave nectar, pure maple syrup, or coconut sugar)

4 nori wrappers

4 large stalks asparagus, lightly steamed

1 small avocado, sliced into 1/2-inch-thick slices
1. Mix the quinoa, rice vinegar, sesame oil, tamari, and mirin (or sweetener) together in a mixing bowl.
2. Lay a sheet of nori, shiny side down, on a flat, dry surface in front of you. The shorter end of the sheet should be facing you. Spread 3/4 cup of quinoa over the sheet, starting at the bottom. Allow 1/3 of the wrapper to remain bare (the third that is farthest away from you, at the top).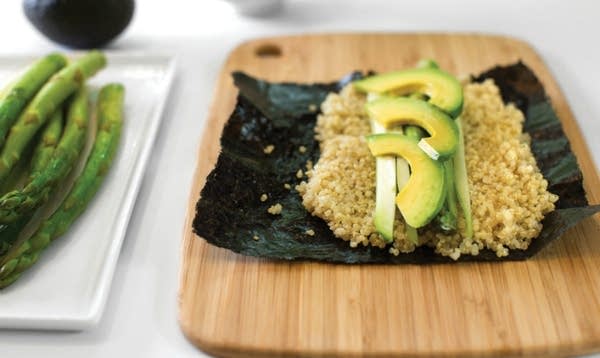 3. Lay an asparagus spear horizontally across the quinoa, about 2 inches from the bottom of the sheet. Top it with a few slices of avocado. Starting from the bottom, gently roll the nori up, applying pressure as you go. When you get to the top, moisten the top edge of the nori roll; this will help the roll stick together.
4. Use a very sharp knife to slice the roll into pieces (about five). Repeat with the three remaining nori sheets. Serve with tamari for dipping, or any dressing you like. 
You can prepare the quinoa as instructed, and store it for up to 3 days in the fridge, rolling the sushi as desired.
---
From Choosing Raw by Gena Hamshaw. Reprinted with permission from Da Capo Lifelong, © 2014