Photo: Faith Durand for The Kitchn
---
Do you love cream cheese icing? Do you consider it the best part of carrot cake and red velvet cupcakes? If so, then you need to try this recipe. It's old-fashioned, and it takes a little more time, but oh, it's worth it. This is so creamy, so rich — and it tastes of cream cheese all the way.
My curiosity about cooked cream cheese frosting was piqued by Emma's recipe for carrot sheet cake, where she mentioned that her aunt usually used a cooked cream cheese frosting. I have always made my cream cheese icing the simple way: Equal parts cream cheese and butter, whipped together with a large quantity of powdered sugar. The result is rich, very sweet, and not purely cream cheese. It tastes of butter as much as cream cheese, and sometimes the powdered sugar can give a chalky flavor and texture.
This method is totally different. There is no butter. Instead, you create a roux of flour and milk, and then you whip it together with cream cheese. The cooked flour and milk mixture helps stabilize and thicken the cream cheese. The benefit here, besides the silky texture it creates, is that you can use much, much less sugar. The cream cheese comes through clearer. (This recipe is just like old-fashioned cooked (or boiled) icing, except here you add cream cheese instead of butter in the final step.)
If you have a stand mixer, this is a very hands-off process. If you use a hand beater (and yes, you will want some kind of beaters for this recipe) it is a little more laborious. But it is worth it.
It produces a creamy icing that tastes lusciously of tangy cream cheese, without butter clogging up the flavor. It isn't very sweet at all; it puts the cream cheese up front. If you really love cream cheese frosting, you should try this recipe at least once. Yes, it is a bit more work, but oh, it's so good.
I tested this icing several different ways. I tried creating the flour paste without sugar in it, and I whipped the sugar into the cream cheese separately. But I felt that this method is a little trickier; it's harder to keep it lump free. I also tried adding non-whipped blocks of cream cheese into the hot flour paste. This also wasn't optimal; it took a long time to come together.
The final method I settled on was the most reliable, at least for me. First, whip the cream cheese until it is silky and light. Then cook the flour, sugar, and milk together until it forms a thick liquid. Then whip the flour paste until it is cool, lightening it as well. Then beat everything together.
I find that this is best eaten within 3 days or so. After that it starts to taste a little more of the flour, and less of the cream cheese. (I like this best with a molasses cake or a very dark chocolate cake, by the way. Here is the molasses cake recipe pictured!)
Ingredients
16 ounces (2 bars) full-fat cream cheese, softened at room temperature for at least 1 hour

1/4 cup all-purpose flour

1 cup white sugar 

1/4 teaspoon salt

1 cup whole milk

1 teaspoon vanilla
Instructions
Place the softened cream cheese in the bowl of a stand mixer (or simply use a large bowl and hand beaters). Whip the cream cheese on high speed for several minutes, until it is completely smooth and silky. Scrape the cream cheese out into a separate bowl and set aside.
Whisk the flour, sugar, and salt together in a small saucepan. Turn the heat on to medium and slowly add the milk, whisking constantly. It will look lumpy at first but whisk vigorously to create a smooth paste. Continue whisking as the mixture comes up to a simmer. It will thicken rapidly and dramatically as it comes to a boil (see photo below). Simmer for 1 full minute, then turn off the heat. Scrape the flour and milk paste into the mixer bowl. (If you want to be 100% sure there are no small lumps, pour it through a mesh sieve.)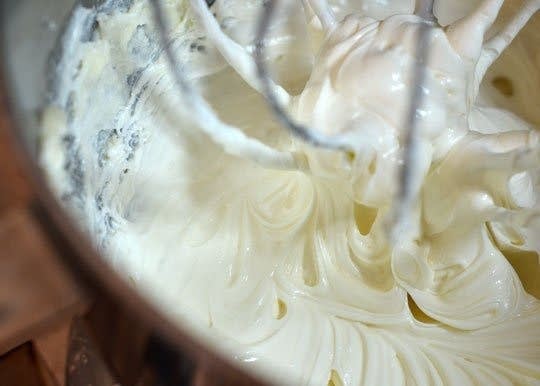 Turn on the mixer or beaters and whip the flour-milk mixture for 10 minutes, or until it is lightened and no longer piping hot. It should be lukewarm or cooler. Slowly add the whipped, softened cream cheese, whipping constantly. Add the vanilla. Continue whipping until the the two are completely combined and smooth and silky. (See photo above.)
It is best to let this icing firm up a bit more in the refrigerator but you can use it now to ice a completely cooled cake. If not using immediately, store in the fridge for up to 3 days. Whip again briefly on high speed before using. It is also best to refrigerate cakes that are iced with this frosting. It is best eaten within three days or so.
---