There is a rooftop patio at the headquarters of American Public Media available to employees who might want to eat lunch, hold informal meetings and sweat profusely. The sun bounces off of downtown office buildings, hits the windows of our UBS Forum and radiates up from the thermal-conducting tile floor in a way that keeps the air temperature ~20 degrees greater than the ground below.
It is so damn hot.
So you don't see a LOT of people out there in the summer, but when the producers of The Splendid Table ran into a tray of tomato plants named for Lynne Rossetto Kasper, we thought it would be nice to grow one at work, as a community. And the hotbox that is the patio seemed like the perfect environment.
We brought in a big ceramic pot, several bags of dirt and some secret nutrients. The 4-inch seedling went in on a Wednesday and was dead by Monday -- every branch nibbled off. It may have been a bird. It may have been an urban squirrel. There are a number of humans still suspected.
But it was gone. And quickly. And it was one of only eight plants trusted to carry on the strain.
The other seven are spread across the Minneapolis/St. Paul metro area, growing unlabeled in the private residences of employees. We've taken different approaches: gardens vs. pots, organic vs. questionably organic, dirt cover vs. plastic, pruning vs. growing wildly. The tactics have made a difference in height.
* Rules clarification: For the sake of this contest, Lynne is growing three plants to everyone else's one, and she gets to enter the results of her best performer.
** Contest clarification: Did I mention this is a contest? It is. Let's handicap the field:
5. Jennifer Larson, Production Assistant
This is not looking good.
We may have forgotten to tell her about the competition.
At 18 inches and still in a pot, what could be the chances of having a fruitful harvest?
In fairness, the plant has survived a move to a new apartment. It looks green. It has a few flowers. Talk of the staff entering tomatoes in the Minnesota State Fair has prompted Jennifer to transplant soon into a bigger pot.
Still, there is a lot of potential for humiliation here, and that's exciting.
 
4. Lynne Rossetto Kasper, Host
Lynne has fruit, but she got off to a slow start. Here's her story:
These are my three plants on their first day home. Cold and rain didn't let up for weeks, so they had to wait on the windowsill. In the meantime, I peppered tomato creator Joseph Tychonievich with questions. Years have passed since I grew tomatoes and no mistakes could be made with these babies.

Joseph's instructions said a simple potting soil mix, a little fertilizer, and a container for each plant. So once the monsoons and 30º May evenings passed, I headed out to buy my materials.

The first challenge: All potting soils at the big home store had built-in fertilizer. My tomatoes are going to be organic; I do not want built-in fertilizer. Solution: An organic gardener saw me looking puzzled and suggested organic topsoil and compost with rotted cow manure. I got 60 pounds.

I read that these plants would need 5-gallon containers, and I bought three that were just shy of that. The following weekend at the farmers market, I visited the farmer and naturalist who brought the first heirloom tomatoes to the market some 12 years ago. He's one of my favorite suppliers. He said I'll need really, really big containers for these plants, and I'll need more stuff in my soil, like peat most (has to be Canadian), perlite for keeping the soil light, and more compost with rotted manure.

After consulting a third professional, I ended up with three bourbon barrels (complete with the proper char and a Jack Daniels label no less), 160 pounds of organic compost with rotted cow manure, 80 pounds of topsoil, 1 square yard of highly compacted Canadian peat moss, and more bags of perlite than anyone in their right mind should buy.
3. Andy Kruse, Web Editor
I went into the ground earlier and more deeply than everybody else. When the nearly freezing nights kept Lynne's on the window sill, my plant was already outside toughening up. And while the seedlings arrived at 4.5 inches tall, I tugged off a few bottom branches and buried most of my plant under the soil. "More roots, stronger plant," I was told once by someone who is not a botanist.
The plant is in a bed off the southeast corner of my house, in a cluster with four other tomato varieties. It gets a strong dose of sun from dawn through about 2 p.m.; then shade. This is not ideal.
I thought this page was so beautifully laid out that the information about what to bury with the roots must be correct. So I used healthy amounts bone meal, fish fertilizer, a homemade compost that I've been turning over for years, and some peat moss because I had some.
Joseph told me to cover the area with black plastic to keep the heat in, but I didn't want my neighbors to have to look at garbage bags. The top layer is just black dirt.
When Minnesota switched on the heat in early July, the plant took off. It doubled its size every week for about 3 weeks, I saw some fruit, and I had a lot of yellow flowers. That's when I made a decision worth questioning.
I had heard two things: [1] Your first fruit will be your lowest; nothing will grow below that. And [2] Branches without fruit are just wasting nutrients that could be better directed toward what's growing. Based on this advice, I gave my plant a severe haircut. Anything that didn't have a fruit or flower the last week of July got cut off.
Here's before and after:
1 (tie). Jen Russell, Producer, and Jenny Luebke, Technical Director
We wouldn't dare rank these two against each other. They seem to be in near-equal standing around the midway point of the growing season, so let's say it's too close to call.
There are a couple tactics to examine. The Jen on the left appears to be using some sort of red plastic around the base of her plant, presumably for heat retention but more likely the result of fancy product marketing. The Jenny on the right has described using a mobile planter called EarthBox, which is on wheels and can follow the sun around the yard at different times of day.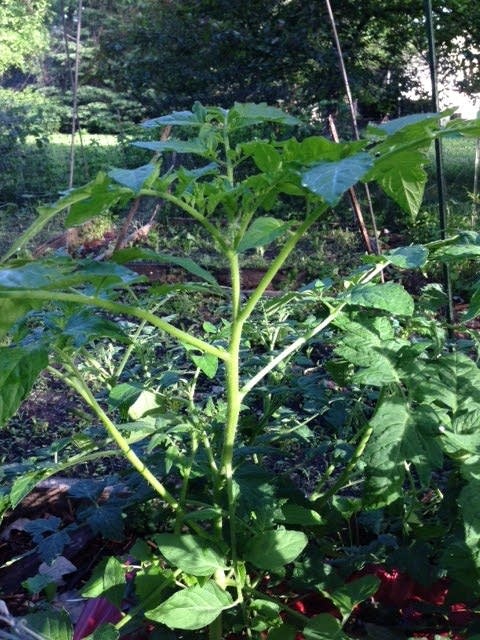 Now filled out and approaching 60 inches, this plant from Jen Russell might be the one to beat.
Though maybe it could use a trim.
UPDATE: We asked Joseph Tychonievich, the plant breeder who created The Rossetto, for feedback on our various techniques. The Michigan summer killed his.
Oooh! Things are looking good. I love how pretty Lynne's containers are! Looking at them I'm itching to plant old fashioned trailing nasturtiums around the edges. No, they wouldn't help the tomatoes grow, but they would be so pretty. Despite Andy's snark, the red plastic around Jen's plant is based on good science. The plastic helps warm the soil, control weeds, and hold in moisture, and the red color actually promotes earlier fruiting. For reals. It doesn't have a huge impact, but it might just be enough to give her the edge she's looking for. Jenny's Earthbox system is also pretty nice -- again, the plastic of the container helps with heat and weeds and moisture. It is also pretty fool proof.  But I still like Lynne's containers the best... they're so gorgeous. Though should I really be giving comments and advice? Well... MY plants of the Lynne Rossetto Kasper tomato in my garden are... dead. Yeah, we had a surprise late frost the first week of June (WAY later than we usually do) the zapped a garden's worth of tomatoes, peppers, melons, basil, and so much more. I'm making do with boring tomatoes from the local garden center and vowing to watch weather predictions like a HAWK next year. -Joseph